Ed Anderson is a contemporary fine artist and former Air Force officer transplanted to the mountains of Idaho from Minneapolis. His style has evolved from a lifetime with art and architecture. Bold lines and bright colors have come to define his compositions.
Most days you can find Ed in his home studio overlooking the Boise River on the eastern edge of town. It is an experience. You can usually find him painting to blaring music or beating the strings on an acoustic guitar. Probably you'll catch spirited twin daughters running in an out. In fact, if you do visit and it's quiet, it probably means he's off somewhere exploring in his Jackson kayak with his Boykin Spaniel, Silas.
Ed strives to catalog Americana. His subjects are derived from vast experience in the outdoors, where Ed spends much of his time. Additionally, his extensive travels push him to investigate things unique to his country. Today he may be working on a landscape at his No Business Lodge, or be on the flats in Florida trying to chase down a Tarpon for a photo. Tomorrow he could be in the chutes sketching the moment a bull tears out with a rider on his back. Then again, you could find him in the mountains, bugling in an elk to 25 yards. No matter where he may be, Ed is trying to capture his experience with his gestural style.
Ed is a featured cover artist and contributor for Gray's Sporting Journal and is a featured artist with the Bonefish Tarpon Trust and the Pro Bull Riding Tour. Additionally, he is exploring options with Texas Parks and Wildlife and Rocky Mountain Elk Foundation. His work can regularly be seen at the Saddletree Gallery in Ketchum and The Frying Pan Gallery in Cape Cod. And, Ed tours his art appearing at Art Festivals and Sporting Expos around the country.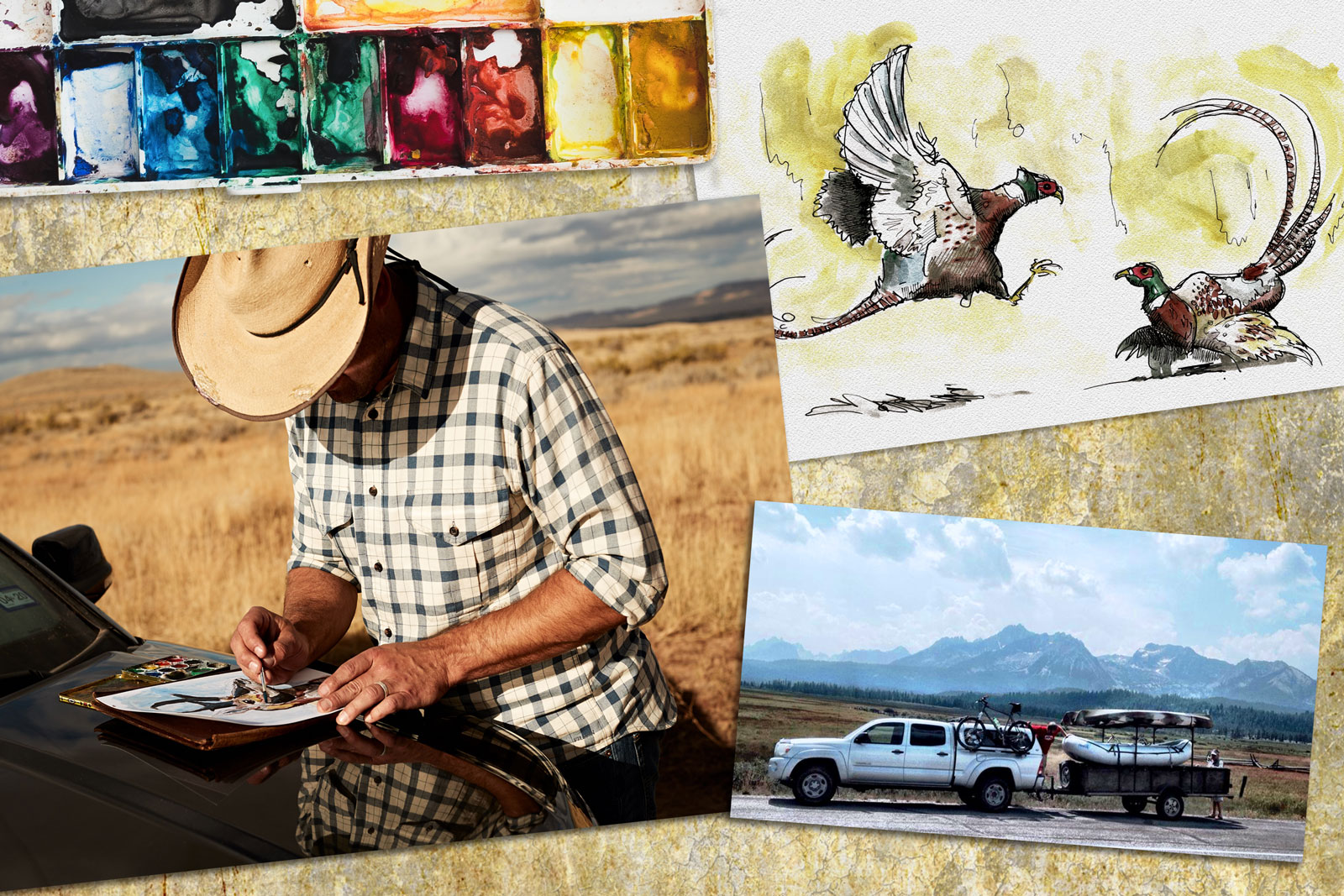 REPRESENTATION & APPEARANCES
RealTree, Featured Artist, 2018
Wild Sheep Foundation, Featured Artist, 2018
Patagonia, Featured Artist, 2017
Sawtooth Society, Featured Artist, 2017
Fulton Street Showroom, Featured Artist. 2008-Present
Saddletree Gallery, Ketchum, Featured artist 2010-Present
Razzle Dazzle, McCall, Idaho, 2010-Present
Frying Pan Gallery, Wellfleet Harbor, Cape Cod. Featured Artist, 2012-Present
Meissenburg Designs, Featured artist and designer, 2013-Present
Fincognito, Featured designer. 2013-Present
Rocky Mountain Elk Foundation, Exhibitor 2014-Present
Dallas Safari Club, Selection and attending Artist, 2015-Present
West Mountain Drifters, Featured Designer 2016-Present
Idaho Fish & Wildlife Foundation, 2017
Orvis Flagship Store 2013
Rocky Mountain Elk Foundation Featured Artist Program (Invitee) 2015, 2016.
RMEF, Selected Vendor Direct Program. 2015
Ducks Unlimited Duck Stamp Invitee 2015, 2016
Pro Bull Riding, Featured Artist, Montana Touring Pro Events 2015
Gray's Sporting Journal Covers, May 2013, 2014 (40th Anniversary), October 2013
Gray's Sporting Journal, Numerous selections 2013 and 2014
Sporting Classics, Selected Artist in Design Feature, April 2016
Redoubt Mountain Lodge/Moldy Chum, Featured Painting and Video, April 2016
Veteran Outdoors, Cuba Journal Pages, April 2016
Moldy Chum, Mozambique Journal Pages, May 2016
BigLife Magazine, Arts & Culture Feature, Fall 2016 – Spring 2017
Backcountry Journal, Fall 2016 – Spring 2017
Thomas Anthony Gallery, Represented 2020-2021
Eric Thorsen Gallery, Represented, 2017
L.A. Design, Represented, 2017
Fulton Street Showroom, Six solo shows 2008-2016
Solid, Boise, 4 solo shows 2013-2017
Saddletree Gallery, Represented, multiple solo shows 2010-Present
Frying Pan Gallery, Represented, multiple group shows 2012-Present
Longview Museum of Fine Art, Show with AD Maddox, 2013
Linen Building, Solo show May 2013, Group show May 2012
Razzle Dazzle, Represented, multiple showings
Brundage Mountain, Interior art 2014-Present
Donnie Macs (restaurant), Entire Interior 2008-2013