We sent Ed up to the Sawtooth Society's annual Sagebrush Soirée. The organization does the heavy lifting to make sure this beautiful part of Idaho continues to receive support tackling the issues facing the region. Located in the center of the state, it is perhaps one of the most splendid parts of the country. The sharp peaks of the Sawtooth Range are one of icons of the American West.
Ed brought a 7-foot tall painting to finish for the live auction.  The piece is titled "Top Goat" and depicts one of the symbols of these great mountains.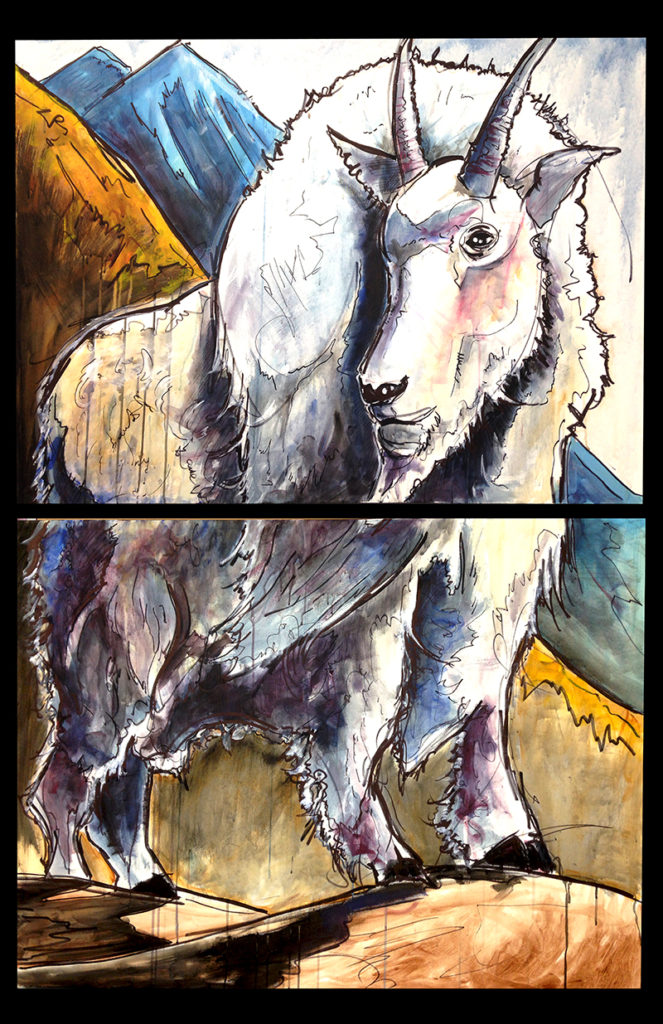 THE SAWTOOTH SOCIETY VISION AND MISSION
Formed in 1997, the nonprofit and nonpartisan society is the only organization dedicated exclusively to:
Serving as an advocate for the Sawtooth NRA
Preserving open space in the Sawtooth NRA
Enhancing recreation facilities and services in the Sawtooth NRA
ADVOCACY Works with policy-makers and the public to address threats facing the SNRA. Current issues include: helping to develop the management plan for the two new Wilderness areas in the Sawtooth NRA, addressing the risk of another catastrophic fire, working to improve the private lands program, and supporting Sawtooth Vision 20/20 to identify threats and opportunities within the Sawtooth NRA.
ENHANCING RECREATION Provides ways to give back to the SNRA through volunteering and donation. Below are a few ways you can get involved in our volunteer program or benefit from our grants program. We have funded over 175 recreation enhancement projects and completed scores of on the ground projects to benefit all who use the Sawtooth NRA.
PRESERVING OPEN SPACE Worked with the Administration and Congress to secure $20 million in federal funds for the purchase of conservation easements in the SNRA.
Published a booklet to increase public understanding and fair application of federal regulations for the use and development of private lands in the SNRA.